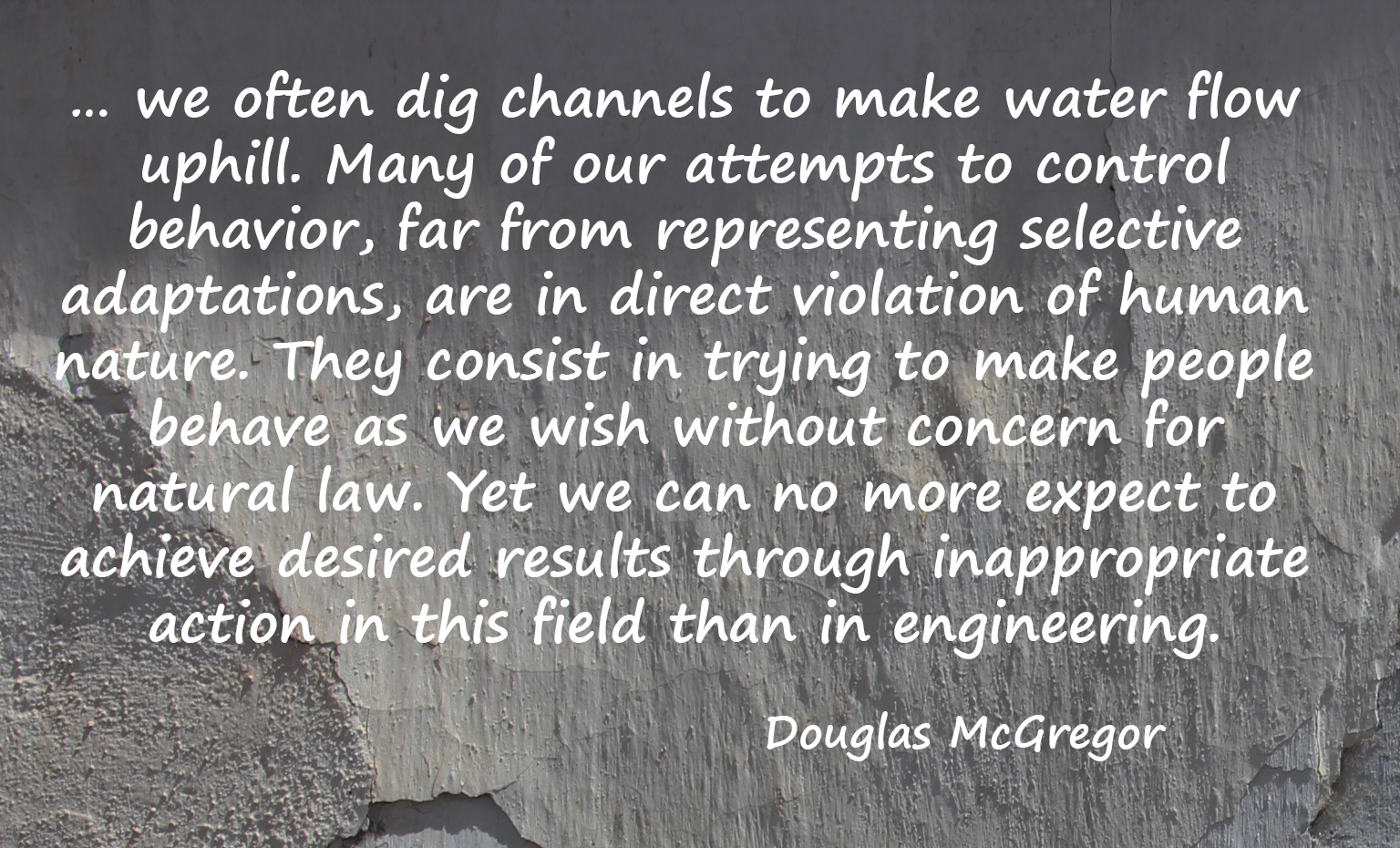 McGregor constateert in "The Human Side of Enterprise" dat organisaties vormen van controle over hun mensen hanteren die regelrecht ingaan tegen de natuur van mensen. Als die mensen reageren conform hun natuur in plaats van te doen wat het management van hen verlangt, dan krijgen die mensen daar de schuld van. Terwijl het eigenlijk om een falend controlemechanisme van het management gaat.
The engineer does not blame water for flowing downhill rather than up, nor gases for expanding rather than contracting when heated. However, when people respond to managerial decisions in undesired ways, the normal response is to blame them. It is their stupidity, or their cooperativeness, or their laziness which is seized on as the explanation of what happened, not management's failure to select appropriate means for control.
McGregor laat het idee van controle niet los, in die zin komen zijn voorstellen alweer gedateerd over. Maar laten we ze in het licht van zijn tijd beschouwen. Ook omdat wat hij beschrijft nog steeds al te vaak voorkomt. Hij ziet het aanpassen van systemen aan de menselijk aard als de weg naar een groter vermogen tot controle van de activiteiten van medewerkers.
We can improve our ability to control only if we recognize that control consists in selective adaptation to human nature rather than in attempting to make human nature conform to our wishes. If our attempts to control are unsuccessful, the cause generally lies in our choice of inappropriate means. We will be unlikely to improve our managerial competence by blaming people for failing to behave according to our predictions.
McGregor ziet het eindproduct van zijn visie op controle als een vorm van onderlinge afhankelijkheid, 'interdependance'. Managers moeten beseffen dat zij afhankelijk zijn van hun medewerkers, zoals ook die medewerkers afhankelijk zijn van hun manager.
The end product, however, is not Independence. No individual in society is completely independent. Interdependence is a central characteristic of the modem, complex society. In every aspect of life we depend upon each other in achieving our goals.
Loslaten van de eenzijdige afhankelijkheid van medewerkers van hun managers heeft ook bijeffecten. Want niet iedereen zal zich altijd blij voelen met de gevonden vorm van onderlinge afhankelijkheid. De een zal zich nog te afhankelijk voelen, terwijl de ander best wat meer sturing zou willen.
Some of us never learn to tolerate even a moderate amount of dependence with comfort. We remain rebellious; any hint of the exercise of personal authority over us is threatening. Others of us tend to be unhappy if we are too much on our own. We like to lean on those above and to be sure of some degree of protection and security. The variations in these patterns are, of course, infinite.
Het werken met mensen blijft dus mensenwerk. Dat mensen die open deur ooit niet zagrn, lijkt onvoorstelbaar. Zoals gezegd zijn deze inzichten nog steeds actueel. Zeker binnen traditionele hiërarchische organisaties moeten managers zich nog altijd blijven oefenen in situationeel leiderschap. Ze moeten hun gedrag naar hun medewerkers aanpassen aan de behoefte van iedere specifieke medewerker.
Citaten uit "The human side of enterprise"
Boekbespreking "The Human Side of Enterprise"
"The Human Side of Enterprise" bij bol.com